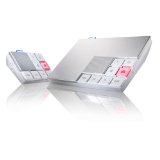 OK.  It's been over two weeks now and I still love my Ooma.  I have been keeping an eye on the blogs out there and of course leaving my two cents worth.  There have been many blog posts that have put down Ooma.  Now, these are not Ooma owners, but just people commenting about a product that they have never even tried.
Many say the company won't be around.  Well, I have saved $50.00 over Vonage this month alone.  So, by the end of February, the system will have paid for itself.  And, in the meantime, I get clearer reception then Vonage.
I personally don't believe the company is going anywhere.  I have agreed on other blog posts that I will put money on Ooma.  One blogger said it wouldn't be around in a year, that he would 'bet on it'.  I took him up on the bet but I never heard back. Needless to say, I am calling Ooma today to port over my old Vonage lines.  I will let you know how that goes.
The only problem I am currently having with the phone is the outgoing callerid on my second line.  It still says Ooma.inc for the name.  I have been told by Ooma that it takes up to 10 days for this to go into effect.  Well, it has been 17 days, and still, I am Ooma.inc.  I am sure it will be resolved as I have not really seen other people having the same problem.