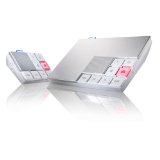 OK, I have made many electronic purchases in my life. I probably have one of the largest universal remote collections around.  I hate being the first on the block to own new technology, but I can't stand to be the second. It is just one of my personality disorders.
Well, is Ooma a new device.  Yes and No.  Ooma has been around for over a year now, but their company has already gone through many changes.  As far as I am concerned, all for the better.
I didn't purchase Ooma to have 'Free phone calls for life', although that is how it is billed.  I have (for the time being) two Vonage lines costing me about $50 per month.  They give me unlimited calls around the US and Canada, and cheap overseas calls.  They offer many, many features that would cost me a fortune if I was using my local/long distance carrier (but I only use a few). But now, while its only been a week with Ooma, I have to say, I will be saying Goodbye to Vonage if things keep going this smoothly.
To make the comparison's between the two services, I decided to setup Ooma with 2 phone numbers.  The first one is 'free', the second I am using their premium service ($100 year / $8.33 month / free for the 1st 60 days).  That is a $43.64 savings over Vonage.  Sure, they don't have all the features of Vonage, but both lines have CallerID, Call Waiting, Call Forwarding and Multi Ring capabilities, Voicemail forwarding to email and cell phone text messages and some pretty slick hardware that looks pretty cool sitting on my desk.
Line #1I use for my home line.  I have my cordless phone hooked to it with 5 extensions.  This gives me 5 phones all running on line one.  Just had to plug in the base unit into my main Ooma hub.  This line also serves my Fax with a really cool device I bought on Amazon for sharing my phone with my fax.  I could get a 3rd line for $4.99 per month for a dedicated fax line, but I really don't send or receive too many faxes now a days.
If I would have gone with a 3rd line, my multi function printer (which I can't say enough about) recognizes distinctive ring tones.  I did get a 3rd line from Ooma for testing, just to see if my printer / fax would pick up when the special ring pattern came in, and it worked flawlessly.  But the fax switch is paid for and doesn't require any monthly fee's.  I also like the fact that the fax switch doesn't ring any of my phones if it is a fax call.  Pretty cool.
My second line is for my business.  I work out of my home as often as I can, so a separate line is really a must. Ooma made this so easy by including a scout with the basic package.  Just plugged it in, plugged in the phone cable into the back of the Ooma hub (not the standard installation, but works for me since both are in the same room) and I have a separate phone number and voice mail for the my business.  I setup my AT&T cordless phone system up on that line so I could continue to use my bluetooth headset. For testing, I just forwarded my Vonage lines to my new lines.  I will later, if all continues to go well, port both my Vonage numbers over to Ooma and use those numbers instead of the numbers assigned by Ooma.
Overall, I am very impressed.  The call quality is fantastic compared to Vonage, and I am saving about $43 per month.  Works well with my fax (although any VOIP service won't guarantee it, but it works for me).  I like the fact that I can pickup line #1 calls also on my line #2 phone.  This way when I am working I can continue using my bluetooth headset even for home calls. Couldn't do this with Vonage. And I thought having a hardware answering machine would be a waste, but it also is really cool.  While it is an internet based voicemail system, you can screen your calls as messages come in and pickup if you want.  Couldn't do that with Vonage.
I am still waiting for the 'oh, that is the problem' with this system, but I have yet to find it.  If you haven't bought one yet do it.  Click on the Ooma picture above and place your order now.  Amazon normally doesn't charge for shipping when you purchase, or even when you do a return.  And for me (I live in California) no sales tax.  It really is risk free! If you are thinking about doing it, leave me a comment and I can refer you.  You'll get some free international call minutes (and so will I).
Until next week…