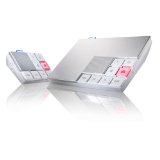 I am really surprised how many hits my site started to get once I started talking about my Ooma experience.  Well, I have to say, I am really happy.  My only problem with the company is its support.  But, from the posts I have read, they were slammed with sales over the Christmas season.
And while I don't like to wait on the phone or wait for an email, I am glad to see that they are busy.  Like many people that come by here to read about my experience, I also was worried about buying hardware and then having the company go out of business.
So far, the only call quality problems I have is one number in particular (my ex-wife) where I get a bit of an echo.  But maybe that is a good thing :).
I just completed porting my Vonage phone number over to Ooma.  While it took 3 weeks to complete, it did.  There was a slight problem, as for a few hours, it actually was ported to another Ooma customer.  I guess this is just some of the growing pains you could expect from a company who is growing.  But again, growth of the company is good news for me.  I now have saved $50 from my old Vonage bill.  Have 2 lines for about $8 bucks a month (once my free 60 trial is up – free right now).  Lets hope Ooma hangs in there.  But I guess, if they last more then another 2 months, I am a winner.
For those interested in Ooma, visit my link on this page.  Amazon is a great place to purchase from.  Free shipping and Free shipping if you return the unit.  But, I don't think you will.