I have been getting emails from people to ask me if I am still happy with Ooma, so I thought I would leave an updated post.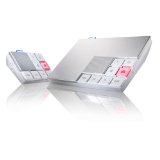 I am very happy after a year.  Still 3 lines (really only need 2).  1 for home and 1 for business, the other I never use.  It has been so nice, especially for business.  When my customers leave messages, I never hesitate to call them back, because it doesn't cost me a thing.  My long distance bill when I was with AT&T was always between $200 and $300 a month.  What a savings. What really impresses my customers though, is when they leave an email and I call them direct.  I never used to do that with my old phone company.
Now, I will say though, when calling local, there is one number that I call that I almost always get an echo.  Doesn't bother me because it is my ex-wife's phone number and I don't call that often :).  I do have a cable modem though, and that can be a problem.  Every now and then, my throughput drops to almost nothing and people have a hard time hearing me.  Now this is not Ooma's fault though.  When this happens I can't stream for Netflix or Stream Hulu to my PlayStation either.  If I went DSL I would never have this problem.
If you want to see more comments on Ooma from other actual users, click on the Amazon link at the top of this article.