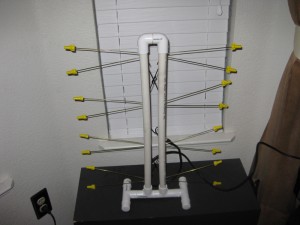 OK.  Here is my homemade clothes hanger digital antenna.  Always looking to save money, I thought it would be pretty cool if I could feed my Dish Network HD 2 tuner PVR over the air HD digital channels.  Not knowing what channels I would get here in Redding, CA, I didn't want to shell out a whole bunch of cash to find out I get nothing.
And then I found plans on MakeTV's website on how to make your own for under 10 bucks (http://blog.makezine.com/archive/2009/01/maker_workshop_dtv_antenna_steadyca.html).  Complete with a video and printable plans, I figured I would give it a shot.
I didn't like the looks of theirs (made of wood), so I altered the plans using PVC pipe.  I had some extra lying around, but now extra wood, so it only made sense.  After I spray paint it, it will event look better.
I was shocked.  This thing actually worked.  An old employee of mine had purchased a 'real' antenna and didn't get any stations.  I was able to get 9 with this little beauty.  And all the Networks came in in either 720p HD or 1080i. And this is with it sitting next to my TV.  I am hoping to pick up more if I decide to mount it in my attic.
So if you are thinking of buying yourself an antenna, heck, take a few hours and make your own.  You might be shocked. I did order a new antenna just to see if a 'real' one works better.  Should be here this week.  But if you are thinking about buying one, or if you just have another TV that needs one, you have to try this out.